What is Cancer Rehabilitation?
Cancer and its treatment often cause physical, psychological, and cognitive problems. These problems can make it harder to do daily activities or return to work. They may also have a lasting effect on your health. Cancer rehabilitation can help with these problems, which can happen during and after cancer treatment. The goal of cancer rehabilitation is to:
Help you stay as active as possible and participate in work, family, and other life roles
Lessen the side effects and symptoms of the cancer and its treatment
Help keep you as independent as possible
Improve your quality of life
Problems cancer rehabilitation can address:
Cancer and cancer treatment can cause many different kinds of physical problems. Cancer rehabilitation can help with many of them, including:
Pain
Swelling
Weakness and loss of strength
Range of motion and flexibility issues
Decreased endurance
Skin changes from radiation therapy
Lymphedema
Balance issues and fear of falling
Neuropathy, or numbness and tingling in hands or feet
Fatigue
Sexual dysfunction
Problems swallowing
Problems chewing food
Difficulty in mouth opening
Mobility problems affect how a person moves around. Cancer rehabilitation can help if you have difficulty in:
Getting up off the floor
Getting out of a chair
Climbing stairs
Walking
Getting dressed
Showering
Cognitive problems are related to a person's mental abilities. Talk with your doctor about cancer rehabilitation if you have:
Difficulty multitasking
Difficulty thinking clearly or mental fogginess
Memory trouble
In  Apex Hospital we have a Designated Cancer Rehabilitation Department equipped with all the modern technologies to deal with the side effects arising from the cancer treatment . The Department is run by Dr Dibyendu Roy. He is an Internationally Certified Onco Rehab Therapist from PINC & STEEL Foundation New Zealand and Certified Lymphoedema Therapist from Lymphoedema Training Academy the UK and Tata Memorial Hospital, Mumbai. He Worked in Calcutta Medical Research Institute, Medica Superspeciality Hospital, Apollo Cancer Centre Kolkata as a Rehab Consultant. He is working as an International Instructor with Professor Jane Wigg in Various Countries from Lymphoedema Training Academy (UK). He has presented several papers in Various Oncology and Rehabilitation Conferences in India and Overseas. His Case studies were published in the British Lymphology Society Journal in the year 2016. His Research Paper with Head and Neck Cancer Patients was published in the Oral Oncology Journal in the Year 2020.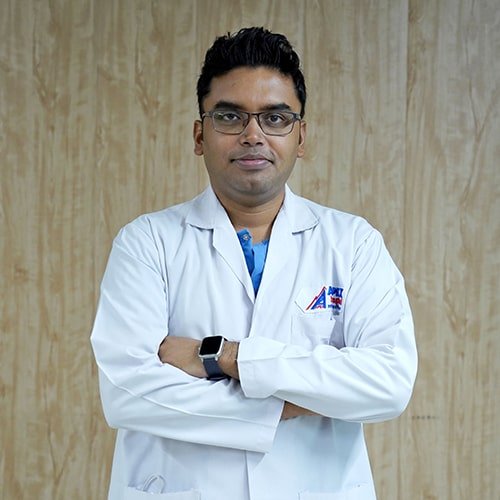 Dr. Dibyendu Roy, BPT, MIAP, MIASM
What our patients are saying
very day we strive harder to deliver a great patient experience which is not just the treatment but also your overall experience at any of our facilities.
The MRI scanning and the doctors' reports and treatment in many renowned hospitals could not heal my son. Then I was informed about Apex hospital by my Family Friend. After 3 days of admitting him in Apex hospital, he has forgotten the pains which he had from for the last one year. He absolutely feels fine now. Moreover the nursing staff always made us feel like home away from home
I personally thank Dr. S.K Singh Apex for curing my Father, putting an end to the pain in her left leg. Apart from professional Apex offers amazing hospitality. All the doctors, administrative staff and every human resource of your institute are very much co-operative God can't be everywhere, so he comes down in the form of doctors.
Thank you isn't enough for the outstanding care and kindness shown to me and my family during my wife's recent liver transplant surgery at Apex hospital care and attention we received was far beyond our expectations. Never have we seen such a remarkable group of individuals and team members.